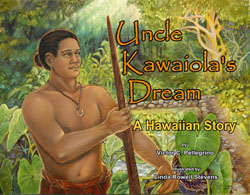 $18.95 + shipping
ISBN 978-0-945045-08-3
(1st Printing - 2010)
Uncle Kawaiola's Dream
A Hawaiian Story
What It Is
Uncle Kawaiola's Dream: A Hawaiian Story is a children's book, one that can be read to children, by children, or by adults. It can be added to school curricula that focuses on multi cultures. Libraries can incorporate it into their world culture collections.
User friendly: contains a comprehensive GLOSSARY of Hawaiian words
Extended learning activities: A STUDY GUIDE FOR UNDERSTANDING AND LEARNING is included that provides 20 questions to help readers learn more about Hawaiian culture and farming challenges.
How It Helps
Provides multi-ethnic content to help readers understand diverse cultures
Helps youngsters and adults learn about the value of land and water, and their interconnectedness
Expands knowledge of Hawaiian language, traditions, farming practices and culture
Fosters understandings of subjects such as the importance of family, the value of learning from history, environmental practices about land and water, and the importance of having goals and objectives
Develops insights into indigenous cultures and their connection to nature and food production
Teaches Hawaiian lessons: cooperation, hard work, respecting elders, supporting others, and role-modeling
Testimonials
Kawaiola awakens the living waters within each one who embraces the `āina with aloha and mālama. A beautiful story of how the living expression of aloha `āina heals and inspires the legacy of `ohana. Mahalo for this book! Lei`ohu Ryder, Kahu, Kukuipuka Heiau
Linda Rowell Stevens' sensitive and skillful renderings of Hawaiian subjects never fail to delight the eye and the heart. Fia Mattice, Gallery Manager, Volcano Art Center Hawai`i Volcanoes National Park, Volcano, Hawai`i
The enriching story of Uncle Kawaiola's Dream helps us all continue to strive for a better community, environment, and self-awareness of our "Hawaiianness." The lessons of laulima, lōkahi, paepae, and `ohana help us all. We all continue to strive to care for Hāloa, our eldest brother. May the dream of Uncle Kawaiola inspire us all, and the lessons learned keep us grounded in our `āina. Kumu Kapono`ai Molitau Wailuku, Maui
This is a wonderful book for all ages. It is so relevant now when people are starting to reconnect to the land, the life-giving waters, our ancestors, our food, our Hāloa, and our kalo, which to me represents all plant life and the relationship that all peoples have had in their own indigenous societies with food and nature. Uncle Kawaiola's Dream teaches many of the Hawaiian cultural principles that make for good strong characters in communities, locally or globally Chris Kobayashi, Kalo Farmer Wai`oli Farm, Hanalei, Kaua`i
I am familiar with this dream. It is a shared dream, and this is a story about why that is important. The dream bears fruit, and this book is one of them. New dreams will sprout from it. Paul Reppun, Kalo Farmer, Waiāhole, O`ahu
Uncle Kawaiola's Dream is a moving account of one `ohana's efforts to restore ancient lo`i kalo and their connection to their culture. This story will strike a chord in the hearts of people throughout Nā Wai `Ehā and, indeed, throughout Hawai`i Nei who are working to restore their lo`i, streams, and communities, and to grow their own food after centuries of plantation diversions. Hopefully, others will be similarly inspired to bring Uncle Kawaiola's Dream to life in their own communities, and in doing so, will help our streams flow, once again, from mauka to makai! Ola i ka wai! Kapua Sproat, Assistant Professor, Ka Huli Ao Center for Excellence in Native Hawaiian Law University of Hawai`i